Back
3 basic things you need to know about machining centres
If you frequently navigate our Website or social networks, in addition to our refurbished milling machines, another type of second-hand machines tool has been recently added to our catalogue. Among these, you will find machining centres of the brand Deckel Maho, model DMU eVolution as highlighted options.
Due to this new business line, we would like you to know more about the operation of these machining centres, origin and main features, so you can be aware of our news about.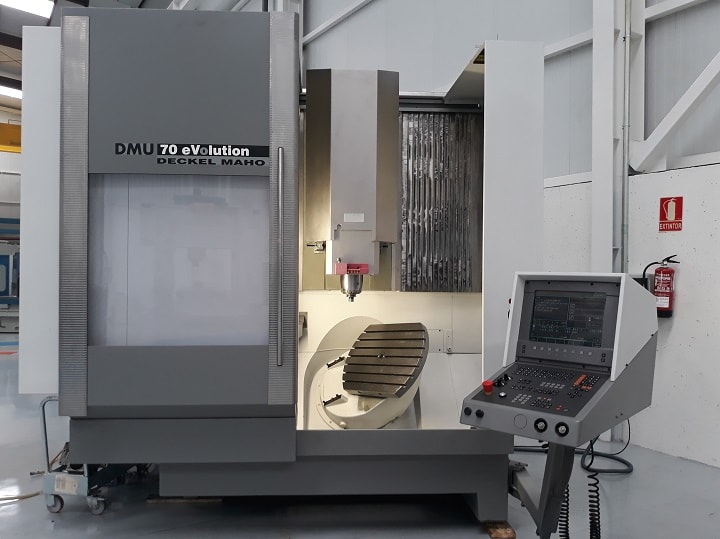 Machining centres: Origin, features and operation
1. Origin and concept
The machining centre emerged from the need to increase productivity, flexibility and precision of the machining offered by milling machines, originated in the midst of the industrial technological revolution of the recent decades.
This is a highly automated CNC machine, very versatile, with high-speed machining and minimal operator intervention during the process.
2. Main features
Machining centres are characterized by the following particularities:
High speed: All of them are high speed machines. Without a doubt, this is one of the most outstanding features so you can increase the productivity
Several machining operations: In addition to milling process, other operations such as drilling and threading could be performed. They are reconfigurable machines; which configuration can be changed quickly in order to perform different machining operations on the same part.
Versatile and flexible: Machining centres are capable of carrying out different machining operations on a same part, without having to move the part or machine changing, thanks to the automation and coordination between the axes. This versatility and flexibility are enhanced in 5-axis machining centres.
Easy to use: Due to the digitalization, its operation is simple, not requiring very specialized technicians.
Perfect finish: Workpieces have an impeccable finish, requiring little or no further polishing.
Automatic tool changer (ATC): All machining centres have this accessory. This allows a tool changing while machining of a part and without any operator's intervention.
Cost: Initial investment is higher than for any other type of machine tools for chip removal. However, due to time savings, productivity improvement and less needs for specialized operators, the investment is paid off with a good cost-benefit ratio.
3. Operation and applications
Machining centre's operation is quite simple. The part to be machined is placed on the working table at the same time as the operator programs the movements of the axes and the tool exchanges to be carried out during machining by means of the numerical control.
This type of machine tool is very useful for serial machining. Thus, they are normally used for the production of dies, injection moulds, parts, etc. in the manufacturing industry; while in the automatize industry, parts and pieces are produced; and in electronics they are used for the prototype of printed circuits. In addition, they also have diverse applications in the jewellery industry, in engraving, wood, footwear and in that related to all types of artistic creations.
At Nicolás Correa Service you will find some examples of 5-axis Deckel Maho vertical machining centres, such as the DMU 70 eVolution model or the DMU 50 eVolution model. This video shows the operation of one of them, available for immediate delivery after its full retrofitting in our premises.
5-axis machining centre Deckel Maho 70 eVolution