Back
6 steps for framework adjustment of a milling machine!
During the retrofitting process of a used bed type CORREA milling machine of model CF or A, in Nicolás Correa Service we carried out the following 6 steps in order to achieve the adjustment and assembly of the framework. With these stages, the correct displacement of framework in Z axis is achieved, as well as the geometry setting of the framework with our usual high quality.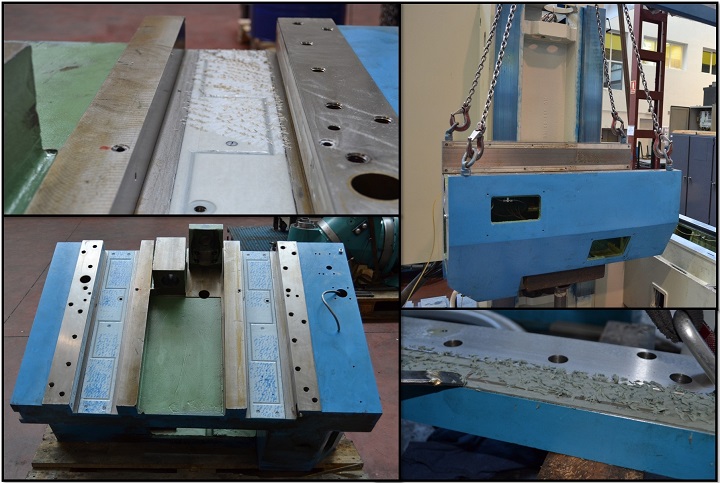 Z-axis framework adjustment
1- CHECK THE CONDITION OF TURCITES, PLASTICS AND BRONZES
The first step is checking the state of turcites, plastics and bronzes both of the frame and of the metal wedges and iron plates. If necessary, those are replaced for new elements due to the great importance of the good condition of these materials.
2- REPLACE Z-AXIS GREASE
In order to improve the lubrication of the framework and to avoid possible future problems due to a lack of oil in its displacement, the framework diffusers of the Z axis area are replaced by others of larger section.
3- FRAME ADJUSTMENT
A manual adjustment with scraper of framework's guides sliding on column's guides is always carried on, checking the slip until being the optimal. This avoids the possible looseness in the Z traverse's displacement, which would cause an imprecise machining.
4- ADJUSTMENT OF Z-AXIS IRON PLATES
Once the manual adjustment of the two iron plates has been carried out, their slip with the column's guides is checked until being the optimal one. Then, guide oil is supplied and the iron plates are assembled giving the adequate tightening torque to each plate.
5- ADJUSTMENT OF Z-AXIS METAL WEDGES
As well as being done with the iron plates, a manual adjustment is carried out by checking the optimal slip, taking into account the already optimised adjustment of the framework with the column, as well as the consumption of the Z-axis motor. This adjustment is fundamental to avoid falls of the framework.
If the lubrication channels are insufficient, they are mechanised to leave a suitable depth in the channel for lubrication.
6- GEOMETRY CHECK
After all the previous steps and once the slip of the framework during its movement on the Z axis is correct, the framework is finally assembled. The last step is to verify the geometry with respect to the other axes.