Back
NC Service celebrates Christmas with improvements and upgrades on its website
In our desire to innovate and progress, at Nicolás Correa Service, S.A. we´ve decided to celebrate Christmas and close 2016 with an improved and upgraded website, offering new features and sections for a more pleasant and intuitive browsing experience.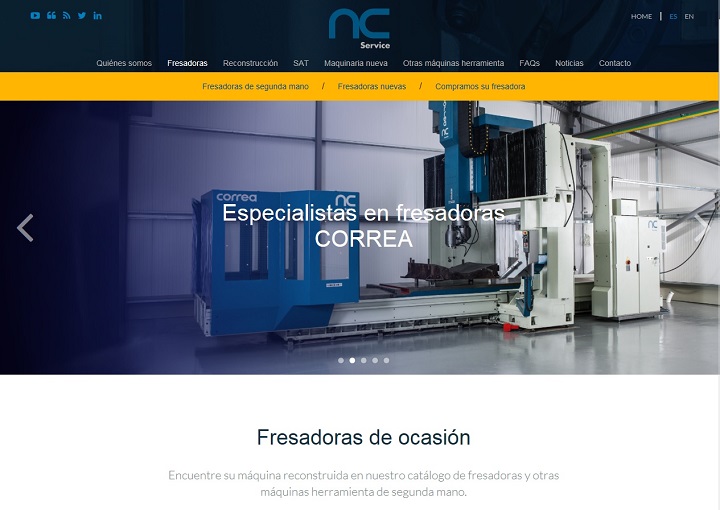 At NC Service we are always mindful of the great importance of on-line communication and digital technologies in all sectors and, for this reason, we are committed to continuously improving our presence in internet and to enhancing the quality of the service offered on the digital market.
With this aim in mind, in the middle of 2014, we launched a new website which was set to break with all previously known dynamics. To date, the results have been clearly satisfactory, with a highly significant increase in the number of visits and also in the number of requests for product information, particularly with regard to our second-hand milling machines. Along these lines, this year we´d like to send our Christmas greetings to all our website users by making a number of improvements that will permit a more intuitive and convenient browsing experience. This has led to the creation of new contents, the improvement of access to the various sections, and also a new front page slider has been added.
This commitment to the enhanced online presence of NC Service has also been carried over to the social networks, where we´ve increased our presence and activity not only in the creation of new profiles on Twitter and Instagram, but also with greater activity in already existing profiles such as LinkedIn and Youtube.
From now on, we´d like to invite you to browse our website at www.ncservice.com and our social networks, and we sincerely hope that you´ll enjoy your online experience.