Back
Second hand ZAYER milling machines retrofitted by NC Service
At Nicolás Correa Service we only retrofit first class milling machines, a categorywhich also includes the ZAYER milling machines. The quality of this brand is combined with our extensive experience in retrofitting CNC milling machines, making our stock of refurbished ZAYER milling machines an ideal machining solution for our customers.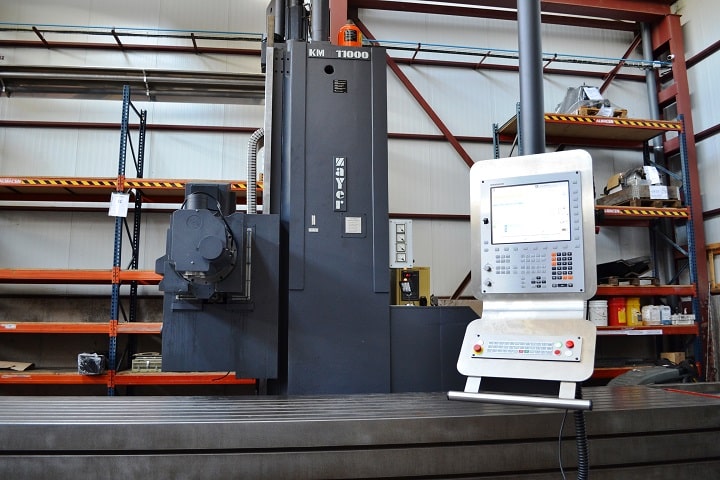 Refurbished ZAYER milling machines
In the ZAYER milling machine retrofitting process,performed by NC Service, and as previously described for other leading brands of milling machines such as ANAYAK and, of course, CORREA, the normal retrofitting stages are followed such as:
Initial study and assessment.
Disassembly, cleaning, sanding, priming and painting.
Replacement of bearings, pre-loading of spindles and the repair or replacement of functional parts.
Machining and grinding of the principal components
Assembly and manual adjustment of the structural components on the 3 axes.
Retrofitting of the milling head.
Inspection and/or upgrading of the electronics and numerical control.
Performance of geometry protocols.
We adapt to the characteristics and specific features of each milling machine, as well as to the requirements demanded by our customers. Whenever necessary, either new components are added such as a latest-generation numerical control or an automatic tool changer or, depending on our customer´s requirements, current parts are replaced by others, such as an automatic head instead of a manual one, etc.
In the stock of second-hand milling machines refurbished by NC Service, we currently have a ZAYER KF5000 bed type milling machine, whose retrofitting process has now been completed and it is therefore ready for immediate delivery, featuring the best machining conditions.
As a recent success story in the retrofitting of ZAYER milling machines, we would highlight the overhauling of the ZAYER KM11000 travelling column milling machine which has recently been sold and which was adapted to the customer´s demand to install a new HEIDENHAIN TNC-320 numerical control once the mechanical retrofitting had been completed. By replacing the original HEIDENHAIN TNC-415 control with this new, latest-generation CNC, our customer will be able to improve the performance of this ZAYER milling machine and will very soon be able to enjoy the machining quality achieved with this retrofit. Below is a video of this milling machine following its mechanical retrofitting, prior to the replacement of the numerical control unit.
If you are looking for reliability in a second-hand ZAYER milling machine, then come and visit us to gain an insight into our retrofitting process and to see our extensive range of different brands of retrofitted milling machines for yourself. Our retrofitted milling machines are a guarantee of machining at the best price.