Back
Sale of a Deckel Maho DMU 70 eVolution machining centre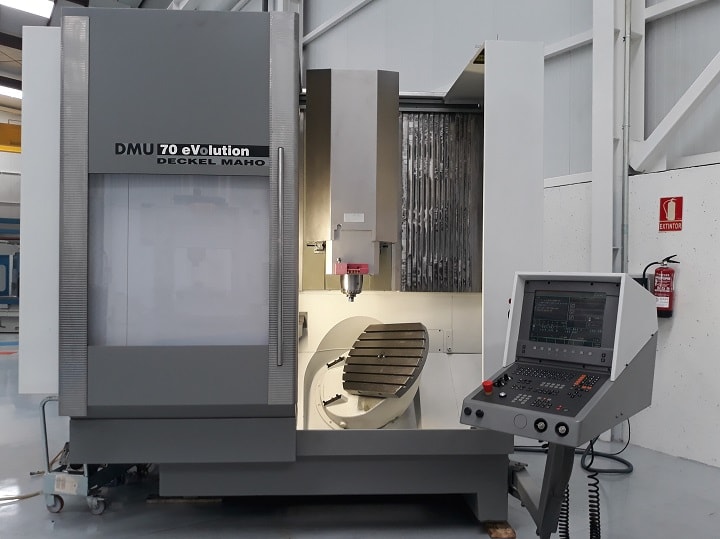 5 axes Deckel Maho machine centre totally inspected
This 5-axis DECKEL MAHO DMU, manufactured in 2001, is specially designed for machining small, lightweight parts and, thanks to its speed and rotary table, it can achieve extremely precise milling with excellent surface finishes. This swivel table, offering a work surface of Ø 700 x 500 mm, allows for the simultaneous machining of 5 sides of the part, making for a highly versatile and productive machining operation.
Following the complete inspection of this DECKEL MAHO DMU at the NC Service facilities in Burgos, this second-hand machining centre went to the company FORTACO ESTONIA OU, a customer who had previously purchased two of our refurbished CORREA milling machines. The customer took charge of the transport, installation and commissioning of this machine at its facilities.
This transaction is added to earlier sales of a further two Deckel Maho DMU 50 eVolutioncentres to two Italian companies, where they are now being used for the mechanical processing of small-scale plastic and metal items.
NC Service is gradually growing, step by step, and building on its strategy to expand towards other types of used machine tools, which adds to its core activity, namely the retrofitting and sale of second-hand milling machines. Furthermore, the customer, FORTACO ESTONIA OU, is already benefiting from three machines retrofitted by NC Service, giving an idea of the confidence that this customer has placed in the high quality of the retrofitting work performed.